I dropped the ball on Admission Wednesdays, y'all - but I'm sure your Wednesday chugged right along without any problems.
I've been running more lately! Being in Texas always motivates me to get moving since my food consumption always seems to increase while I'm here. I just can't stay away from the Mexican food, y'all....
YUM.
On Thursday, I ran 2 miles with the puppy dog, and then completed a
Peanut Butter Fingers
workout on a whim.
The weather was AWESOME even if it was a little cloudy. I loved it!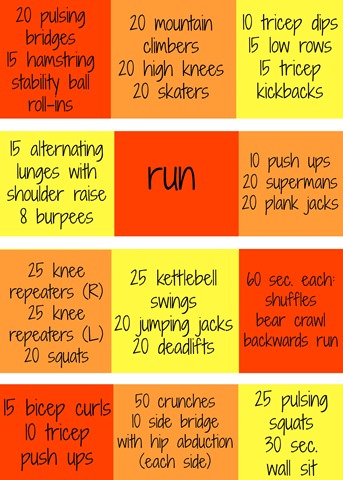 Cycle through each block non-stop for 3 minutes, then rest 30 seconds before moving on
The squats
killed me
(I'm still sore!), and I did most of the blocks (except "run") in order except for the last few. I saved the minute shuffles, bear crawl, and backwards run for upstairs to partly play around with my dog as well. He had a blast. :P
I didn't have any equipment except for a stability ball - I used two water bottles as my "weights", which worked okay. So, this would be a great workout to do when you didn't have a lot of equipment. You could probably just do hip raises (to bridge pose) if you didn't have a stability ball, or skip that workout altogether. The workout took less than 40 minutes! I would definitely recommend it. It went by really fast!
Today, on Saturday, I went for another short run with the dog before my flight tonight to Austin.
Just a little slower than the previous run. Perfect weather again!! 62 degrees and sunny!
If you can tell, I still have some makeup on from the previous day - I had my Bridal Portraits done on Friday! It was so much fun. I had my makeup and hair done (it was the trial for my wedding day) in the morning, and then we drove over to my mom's friends gorgeous house to take the portraits. I can't wait to post some on the blog after the wedding!!
We're getting down to the wire - just about 5 weeks left until the wedding! EEK.